Panama, Casco Viejo, Casco Antiguo
Walking Around Casco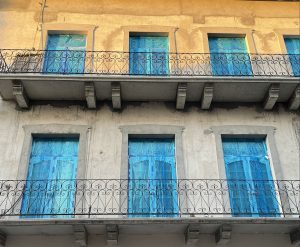 Anyone visiting Casco Viejo this high season will notice several construction sites working full speed and it is exciting.  For every building you are now able to see a painted façade or installed windows, know that it´s been more than two years in the works, counting Covid.
Casco´s two major hotel projects started way before.  Both are now, one right after the other, getting ready to open doors.  But I´m getting ahead.  Let´s start with the real new kid on the block: Santa Ana.
Santa Ana
Most people refer to Casco as "San Felipe".  However, the full definition includes a portion from 11th to 15th Street.  We call it Patrimonial Santa Ana.  It is Casco, same definition, same tax benefits, same mortgage benefits. Same building restrictions, it is simply Casco.
Politically it is different, and that is a good thing.  The local government representative has been extremely active, creating cultural events, participating in community meetings, working to solve issues and open to all new ideas. Most of the excitement has been around the building compound being built and delivered on 15th street called – quite appropriately- La Quince.  La Quince has been offering affordable apartments in the last few years with prices as low as $85,000.  A one-bedroom convertible to two in Casa Balcones starts at $115,000. This up and coming area is quickly becoming the favorite place for our young local market to buy, invest and hang out.  They are not only buying, but moving in with spouses and parents, and starting to participate in the cultural life of the area.  Within La Quince, there are two major game changers: Casa Korsi and La Manzana.
Casa Korsi, currently under construction and the last building to deliver, is not only gorgeous but by the ends of this year it would complete what essentially becomes an almost fully renovated street experience. Along with the other buildings: Patterson, Balcones, Quijano and Manzana, this cluster will be growing into a beautiful showcase for what an affordable and vibrant community can be in Santa Ana.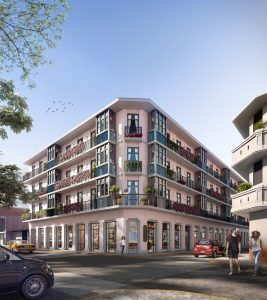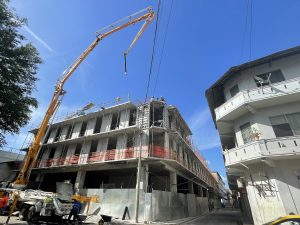 La Manzana, as a mixed-use complex, it is a category on its own: an urban social innovation hub.  It has apartments, offices, event spaces, a restaurant hub, a theatre and a private open patio the size of a small plaza.  From its debut last October with Panama Fashion Week, it has hosted some of the country´s most interesting events including Panama´s Film Festival (IFF) and innovation centered events.  In February they´ll be hosting an event about "identity, money and banking in the internet age", later, working out a dog and cat-spaying event with Spay Panama.  Alliances with local universities and institutions are activating community innovation programs. More than any other project, La Manzana will be a catalyst for change, and a force that will give Santa Ana center stage in every conversation.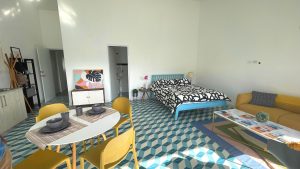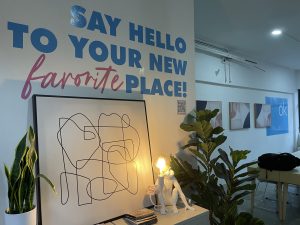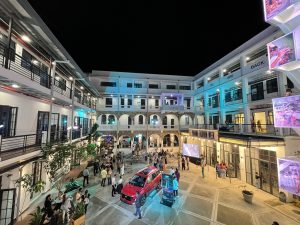 San Felipe
Moving to our beloved San Felipe. Walking the streets, you can see and feel it.   The most important high-end projects are moving fast ahead and getting ready to open.  Because of their strategic locations, the impact will have a wide reach.
High End: Commercial and Residential
On the commercial side, Sofitel will be the first one, with a 159 units. Sitting at the tip of the historic peninsula, it will be all water views.  On Avenida A, the hotel La Compañía by Hyatt is moving along fast, with a similar number of rooms and in a strategic location, commanding the best retail avenue and connecting with the Cathedral Plaza.
Sofitel                                                                     Hotel La Compañia by Hyatt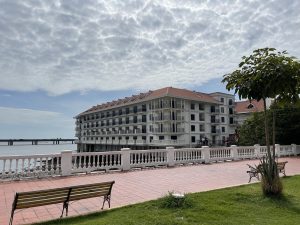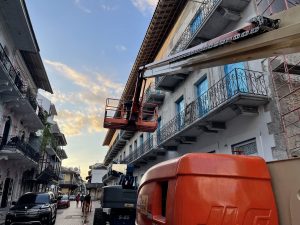 On the residential side, there is only one project that embodies luxury, amenities, location and views: Santa Familia.  Construction is scheduled to finish this year, and is looking stunning. Buyers can now schedule their visits.  Prices start at $290,000 for small units, with wonderful hidden gems with water and historic views starting at the $750,000 range.  Because of Casco´s tax incentives and special mortgage rate, Santa Familia is an easy to carry long-term investment.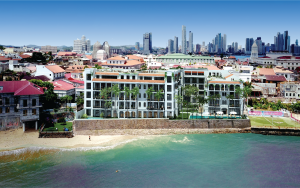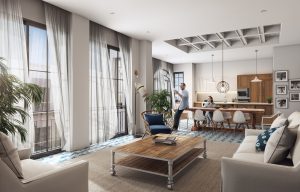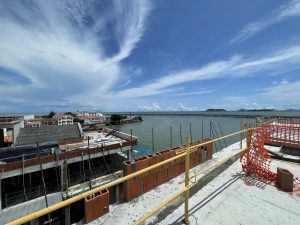 We strongly believe the opening of the Sofitel and Hyatt will be a game changer for the area.  In the residential space, we see Santa Familia being unmatched in the long-term rental market.
Resales & Rentals
Just like last year, this year continues to be a buyer´s market. Especially for existing properties, the market is making a strong differentiation between properties. Not all properties have been created (or maintained) equal.  Properties with no views, no external area, outdated and in buildings lacking maintenance are being hit both for sales and rentals.  We have seen price points long forgotten like $800 for one bedrooms (rental) and $1100 for a two bedroom, furnished.  At the same time, newer property, better-designed, with terraces and/ or balconies, nicely furnished in well-kept condos continue to enjoy faster absorption and better terms.  The short list continues to be (and in this order): views, balconies (to the exterior of the building) and nicely furnished. Parking. We´ve seen two bedrooms in the $2250 space up to $5000 which was last year´s top of the market for a long term lease.
Most one bedrooms in San Felipe continue to be in the $250K range, while two bedrooms start in the $500K range. Direct water views in Santa Familia start at $750K, with amenities like pool, social area, surf club, parking and elevator. The market is looking at pre construction more actively than existing property, because they would enjoy the benefits of Casco Viejo law from the beginning with easier financing terms.
Short Term Rentals
An undeniable trend, it is important that you know short-term rental for Panama City is limited to over 45 days. This includes Casco.  If you are thinking to invest strictly in the "air bnb" type properties, you need to do your homework. High-end residential property has been quite careful in monitoring and limiting short-term activity.  Executive style renting is a friendlier figure, where tenants are properly screened.  Six months to a year continue to be the standard, longer lease.
Panama´s Overall 2022 Game Changers:
Red Carpet Visa
Improved Visa Program: Last year, Panama released what is now called a "red carpet visa" allowing you to start the process from the comfort of your home country.  You can use your purchase to back it, and depending on your goals, you can go for a pre construction, or an existing.  Packaging your investment with a Panamanian visa has opened up an easy way to get a "plan B" for many. We did this Live (in Spanish) with attorney Ricardo Faraudo from DENFAB about the visa programs. Soon to update in English!
80% Vaccination Rate
Panama is currently reaching 80% full vaccination for Covid 19.  The government is actively promoting vaccination amongst children and boosters in adults, public vaccination at no cost.
Convention Center Interconnection
Another important economic factor will be the completion of the city´s interconnection with the Panama Convention Center in Amador… a few steps away from Casco,   making it the closest and most natural hotel and cultural hub. The interconnection works started early January, completion expected by mid-next year.  Looking forward to seeing all 33,000 mt2 activated!