Panama, Casco Viejo, Casco Antiguo. Historic Santa Ana.
Last october,  Fashion Week Panamá launched one of Panama´s most interesting spaces: La Manzana in Santa Ana. It was a fabulous event, with a multidisciplinary group of creatives, applying their skills in the world of fashion. The 150 seat theatre was converted into a runway, the offices into art galleries, commercial spaces into pop up stores for emerging fashion designers, the gastronomic hub and open air patio became a private plaza where sponsors could showcase their products throughout the week.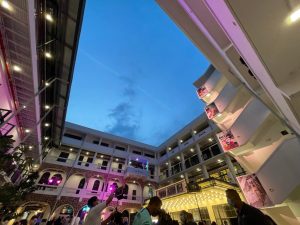 Today, La Manzana has started to be the permanent home of innovative projects for the country. In collaboration with City of Knowledge and USMA, we have seen contest for social innovation (Innova Nation) to workshops with Panama Film Festival (IFF).
In a nutshell: La Manzana is there for you and your ideas! to know more how you can be part of La Manzana, you can contact:
Events: [email protected]
To own or rent: [email protected] / whatsapp 6226-1068