Looking to rent a property in Panama? Renting in Casco Viejo is a very straightforward process, very similar to the rest of the country. Here is how the process looks like and general tips:
Real Estate in Panama and Casco Viejo: renting an apartment
Renting Property in Casco Viejo: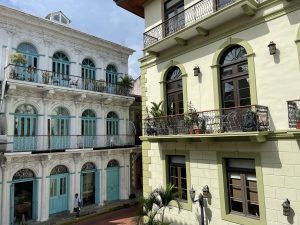 The first thing is to try and have as clear as possible what this rental is for you.  For example, if you are coming to work to Panama, then probably you are looking for a full-time residence.  But if you are planning only to be here a couple of months and still have your favorite place available while trying to short term rent it in the middle… well, that´s a different scenario.
Let´s go one by one
Renting a Full-Time residence in Casco Viejo:
The easiest and most desirable type of rent.  Long term leases tend to be anywhere between 6 months to 12 months, to 3 years.  Most multinational staff have a 3-year cycle in Panama.  It would be important to know if you need your place furnished or not.  Furniture style changes from owner to owner, sometimes there is a bit of flexibility on changing pieces or taking out pieces. But sometimes owners live abroad and don´t have the capacity to put pieces in storage.  In Panama most furnished apartments are not what is considered fully furnished: meaning most likely it won´t include pots, pans, dishes, towels, bed linens. Maybe a few basics.
If you are renting in Casco Viejo, do know that the most residential area (zoned Zone of Silence) is between 1st street and 7th street.  Some people can sleep through anything, but if this is not the case, make sure to mention that to the broker.
SEE LONG TERM RENTALS IN CASCO VIEJO: LINK
Short term rentals in Casco Antiguo: Airbnb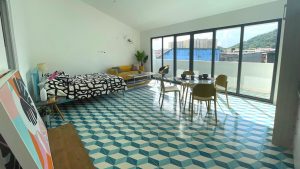 As popular as short-term rentals have become in 2022, truth is it is a thorny issue for most residential condominiums, especially if owners or long-term tenants live there.  For Panama City, which includes Casco Viejo, legislation states that short term rental must be at least 45 days or longer. Truth is that many condos, especially quality condos, have banned it completely.
That said, you will find several condos that are short term rental friendly.  Make sure you understand the location and who is your contact at arrival.
As brokers, we sometimes get request for long term apartments for short term rentals.  Usually it doesn´t work out. Here is why: most long-term units are not set up with services.  They might or might not have electricity in place or (even worst!) … internet.  You can´t hook utilities like electricity just for a couple of months. Most internet providers require a minimum of a one-year contract. Utilities tend to be under the name of the tenant, and this is a process too.  While there might be owners open to it, just wanted to let you know why many just won´t go into the trouble.
SEE SHORT TERM RENTAL APARTMENTS IN CASCO VIEJO: LINK
BUY SHORT TERM RENTAL FRIENDLY INVESTMENT APARTMENTS IN CASCO VIEJO: LINK
Sub leasing in Casco Antiguo
Another popular formula is to rent something long term and try to short it when the tenant is not there.  Most long-term leases prohibit sub leases. The landlord needs to understand who is in the property.  If you have family coming down, it is a given that they can spend time in your place, for example.  But this is different from the tenant renting the apartment short term to a third party, especially publishing it in a platform and getting revenue from the place.
Unless expressly authorized by the owner, this is usually not allowed and can be cause of termination. Remember the owner is responsible towards the condo administration, and if something happens in the apartment that causes an issue for everyone else, they need to be able to take appropriate measures immediately.
Do keep in mind that Panama´s high season tends to be the exact time when you might also be looking forward to using the apartment.  December until April, when is cold everywhere else!
Pets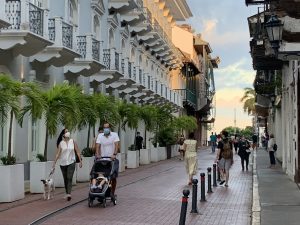 We are pet lovers and always have a soft spot for people who come to Panama with their four-legged family members.  For them, here is the run down: If the apartment has wooden floors most likely it won´t be pet friendly.  You might need to look for an apartment with tile floors, hopefully with some sort of open area like a balcony, terrace or patio.
No matter if it is a dog or a cat, you´ll be requested a pet deposit 99% of the time. Most likely, the pet deposit will equal one full month´s rent. And there will be a clause making sure you fumigate, keep clean and cover any damages to apartment or furniture if it happens.
Having letters of reference from previous landlords in this regard is important. Also photos of the "family" together can help.
Utilities
Utilities in Panama are defined as any services you´ll need for the apartment: water, electricity, internet, cable TV.  Most long term leases don´t include them, and they are expected to go under the name of the tenant as soon as the contract is signed.
Water will remain under the name of the owner, though.  Unless specified in the contract, the rest does need to get transferred.
Internet and Cable tend to be easier, as there are a number of companies that can provide a service. For electricity, you do need to get some paperwork done. Sometimes if the owner has a property manager, the manager will help the process. It usually includes to get the lease notarized, and a letter (in the specific format of the electricity company) signed by both parties to be presented to the provider. A deposit will need to be given and a contract with them signed.
Make sure to set up the online system to receive bills. Otherwise, it might get complicated. Electricity meters are physically checked every month at the beginning of the month, and then a bill usually is issued around day 14th of the month. Sometimes a physical bill arrives to the condo, and the concierge may or may not slip it under your door. So do set up the online system.
Make sure also to get the online system for the water bill, because otherwise, the paper will never get to you.
Now, that said, both systems have numbers. For the water or IDAAN, there is a cliente number. With that number, you can check the bill online manually.  For electricity, you tend to have a NIS number. If you call their automatic service line and input the number, you´ll get the amount due verbally.
That is really the last resource, the best is to set up everything from the beginning.
When you leave the apartment, make sure to go to the electricity company and close the contract, or transfer it back to the owner.
Know your Client
Because of international regulations, Panama´s banks, lawyers and realtors are bound to have a document known as "know your client".  This will be required from you at all three points, so please make sure you fill it out and provide proof of your economic activity.
Diplomatic clause
If you work for a multinational or embassy in Panama, most likely you have something called the "diplomatic clause". While it will change depending on the organization you come from, there are some things that are common to all. For example, they usually state that you can break the lease anytime if you are being transferred out of Panama for work reasons. Under those conditions, you don´t lose the deposit.
If you are going to need a diplomatic clause, make sure to provide a document stating you have the status required for it.  There are some organizations that are very much involved in the crafting of the lease, and some are quite "hands off".  Make sure to understand the process inside your organization first, not to run into issues later.
Lifestyle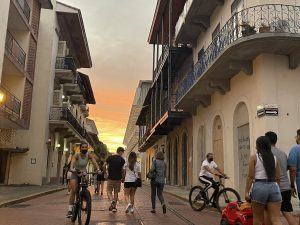 I´m leaving this one for the end, although we should have started with it. The most important aspect of renting is lifestyle. What you enjoy doing on a day to day makes a difference. Don´t let anyone tell you what you like or what you should do.  Go and explore by yourself. Do your homework firsthand. How you imagine waking up, going to work, meeting with friends, what surrounds you and who surrounds you matter.  When you rent an apartment, you are renting the neighborhood you are in. Don´t let anyone tell you what fits you. Your mornings are yours, so are your evenings. From how you get your morning coffee, to your family time, to your lazy Sunday routine with your dog and friends, it will be the choreography of your life for the time you will be there. Your apartment doesn´t need to be perfect, the neighborhood doesn´t need to be perfect either. But you do need to have a sense of home, of happiness.
At Arco, we live, work and invest in Casco Antiguo.  It became our slogan from day one back in 2004, but the joke is that it is true. We do live here; we do invest here, and we do work here. This is what we do. When we rent to someone in Casco, we try to make sure to welcome them into the community. We don´t rent to clients, we rent to our new neighbor. We simply love it and we wouldn´t change it for anything else.
Contact: [email protected]