Panama, Casco Viejo
Sunday, November 18th Magnolia Inn will be hosting a special event: Yoga For A Cause. Run by Andrea Sabellini, this event aims to fundraise to help an ngo in Tanzania that works with AIDS in Africa.  The cost is $25, and it will include the masterclass and a vegetarian lunch.  Doors will open at 8:00 a.m. and the event will be all morning, from 9 a.m. until 1 p.m.
RSVP to Andrea at: [email protected]
More info at: http://www.facebook.com/events/281526021966483/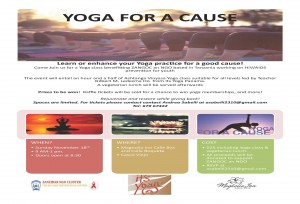 Other events on meditation and relaxation coming? yes! at Los Del Patio:
Tea Time : every Thursday, from 6 p.m. to 8 p.m.
Macramé Workshop:  November 17th,  art and meditation with Juan Gómez at Los Del Patio