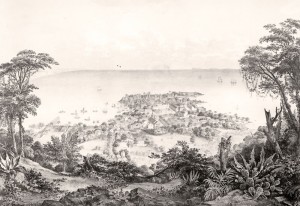 Casco Antiguo is the old quarter of Panama City, founded in 1673 after the original Pacific settlement (Panama Viejo) was sacked by the pirate Henry Morgan. It remained the center of Panamanian life for nearly 300 years, until the 1930s, when, Like many old quarters in Latin America, Casco Antiguo declined as Panama's upper crust moved to the suburbs.
The reasons for the exodus are typically attributed to the emergence of the automobile, which made suburban living feasible and downtown living more difficult. In the Casco's case, these pressures were exacerbated by the fact that the boundaries of the Panama Canal Zone, which was off limits to Panamanians, were drawn so as to pinch the Casco off from the rest of the city, leaving only one narrow road for entrance and egress.
The handover of the Panama Canal in 1999 and UNESCO World Heritage Site designation in 1998 ushered in an era of revitalization by government, entrepreneurs and international organizations.
Why UNESCO thought the Casco was so special
During its 300 years as the heart of Panamanian life, the peninsula developed a unique legacy of Spanish, French and American colonial, neoclassical and art nouveau architecture. Certain styles, particularly the narrow 16th through 18th century houses with internal courtyards, are specific to the region. So, while people often refer to Casco Viejo as a "colonial city", the current city-scape is more dominated by French and Early American architecture, which, UNESCO points out in its justification of World Heritage status, "lends it a special quality that other colonial cities in Latin America lack (with the exception of New Orleans, where the quality of the architecture is markedly inferior)."
UNESCO drew a connection between this eclectic collection of architectural styles and Panama's historical role as a world cross roads, with each style representing a boom in inter-oceanic trade through the Isthmus. This collection of architecture and the people who inhabit it are clear reflections of Panama's fascinating cultural makeup and an important part of our common heritage.
What's happened to date and what's happening
Though much work is left to be done, the public and private sectors have restored historic buildings that now house government ministries, museums, the Presidential Palace, embassies, churches, as well as some of the City's finest homes, bars and restaurants.