Casco´s Interest Rate Special Blog
May 2022
It´s been the talk of town: interest rates going up in the US. Whether you are buying your home or making an investment, it is an important part of the equation. If you are looking to invest in Casco Viejo, understanding how mortgages work under the Casco law might give you an edge.
In this blog, Arco´s mortgage specialist Isidro Quintero will give you his tips on how to get the best results. If you decide to move forward, he´ll be right here to take you though the process himself.
Casco Viejo Interest Rate: 3% subsidy
New property being delivered until January 2024 is subject to Casco Viejo interest rate. This is a subsidy of 3% below the current rate.  If you are an investor living full time abroad and your earnings are outside Panama, you´ll be charged an additional 1% fee called FECI.  This is a tax applied to any second home or investment property in Panama.
Please note that we said "investor living full time abroad and earning outside Panama".   This includes Panamanians.  Conversely, if you are a foreigner living and working full time in Panama, with a salary being paid in the country and this purchase is to be your main residence, then banks will consider you as a local.  It is part of what banks call "arraigo" or "roots", more on that later.
No matter your status, the law reduces your cost of money in a full 3% for the duration of the mortgage.
For example, Panama´s current residential rate is 5.75%.  Minus Casco rate, then 2.75%.  If this is an investment, do add a 1% for a total of 3.75%.  For anyone under the age of 60, assume a 20 year loan.
Here is a useful calculator to help you out: LINK
CASCO VIEJO BENEFITS YOU DON´T WANT TO MISS: LINK
As a foreigner, can I get a mortgage for Casco Viejo?
In Arco, we´ve successfully helped foreign investors get a mortgage. Every case is different, and always bank policies for specific situations will apply.  Here, Arco´s mortgage specialist, Isidro Quintero, shares his best tips to get you set up in the right way.
Tip No. 1:  Set your expectations
If you live abroad, banks will categorize you as investor. We´ve seen banks providing financing between 50% to 70%.  Usually these are 20 year mortgages. If you are a Panamanian living abroad, they could go to 25 years. In all cases, age is a factor. Banks will provide financing up to 80 years old.
Tip No. 2:  Plan ahead and bring everything… we mean it!
The key is to have what they call a full package ready to go.  Try to have everything in advance, so we can present one big bundle and avoid back and forth as much as possible. This is what they´ll need to see from you, especially if you are an entrepreneur.  So many of our clients run their own businesses! This is your list:
Tax returns last 2 years
Credit report: big note here. Make sure that it reflects all your current loans and commitments.
Passport and a second ID
Personal bank statement for the last 6 months. Note this is your bank statement, not the company´s (unless the bank asks for it). It must be the bank account where you receive your income. It usually is not necessary to show additional savings accounts or trust accounts. You also don´t need to show you have a bank account in Panama.
Business reference letter
Bank reference letter (your bank)
Legal document where your business gets created
If you are an employee receiving salary, this is what they´ll require
Job letter
Last 2 pay stubs
Passport and a second ID
You could also be required some support documentation, perhaps about your employer.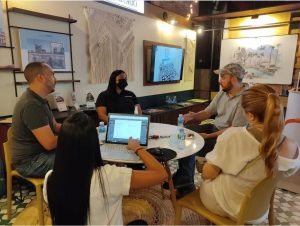 Red Flags: Things to Watch Out For
Debt Level: Shouldn´t be over 35% of your income. Some could be more flexible at 45%.  This calculation includes:

Credit cards: max 2% to 3% of the credit card limit
Personal loans (monthly payment)
Credit line: max 2% to 3% of the credit line. Depending on the bank, some won´t take this into consideration if your balance is up to date (zero).
Car loan: monthly payment
Leasing: monthly payment
Big note here. Some countries allow you to have an open line of credit, even if you are not using it. Panama considers the limit of the line of credit as a real debt.
Income incongruencies:
This could happen for many reasons. For example: if you are an employee and your job letter shows an income of "X", but your bank deposits are less because the difference is being paid in another form or into another bank account.
If you are an entrepreneur income fluctuation is normal. The bank does need to see a medium income that matches your tax declaration, and a tax declaration that shows growth over time.
Applying with a spouse:
Having two people applying together has positives and negatives. When applying together, banks here tend to consider only 50% of the income for each spouse. Sometimes this impacts the debt ration on each individual case.
Looking Forward:
Bank financing is not the more fun subject, we realize that!  So much depends on bank policies and your specific case. But we are here to help you navigate these waters and be able to get the right property for you. If you have any questions, let´s connect!
Email: [email protected]