Panama, Casco Viejo, Casco Antiguo
Busy? don´t have time to cook, but are health conscious? there is a delicious new option for you in Casco Viejo: private chefs! young, creative professionals that are reaching out and catering to private individuals. We`ll be featuring a couple, as this new type of business grows in the community. Prices are competitive and food is really nice.
I believe I`ve posted before on Sophie Boesenberg, who also participates in the Pot to Plate ngo. Today`s blog is for Catriona White, a young chef that lives in Calle 6ta. What I like about her menus is that she has a bit for everyone: vegetarians and non vegetarians.  The way it works is that she sends her week menu to her mailing list. You need to "rsvp" by email, tell her where to drop the meals and when. Voilà!
Here is her contact info:
Private Chef
MiniHaha Gourmet
61177450
and here is a sample of what her options look like:
Quinoa salad with oranges, pistachios, watercress and goat cheese, with optional chicken or prosciutto
Lime and coconut marinated chicken or salmon, yuzu carrot pure, sesame brown rice
Zucchini and feta fritters with minted bulgar wheat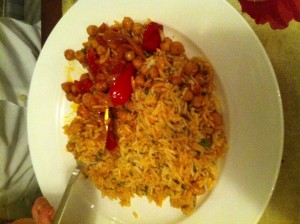 and tahini dressing, optional lemon scented chicken or prawns
Pulled pork tacos with spicy slaw and stewed black beans