Casco Viejo Panama Casco Antiguo
Patriot Holidays are here! For me it is still amazing that a country managed to have its independence from one country, separation from another, flag days and more compounded in one month. Yes, that is Panama! Never mind that the independence (Panama from Spain) happened in 1821 and the separation (Panama from Colombia) in 1903.
However, few know that the current version of Panama`s flag (blue, red, white and stars) was not the first version. There were a couple before that, and at least one part of a conspiracy.  The final (and current version) has a beautiful story though: it symbolizes the peace between Panama`s two rivaling parties (Conservative and Liberal) which would be the foundation of the new country. That is why white is between both red and blue pavilions, a nation of peace under one flag.
Happy holiday weekend!
If you would like to learn more, check out the story here.
Prototype by Bunau Varilla: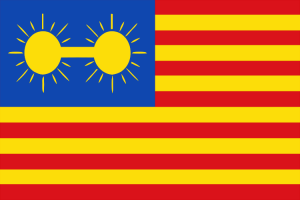 Current Flag: