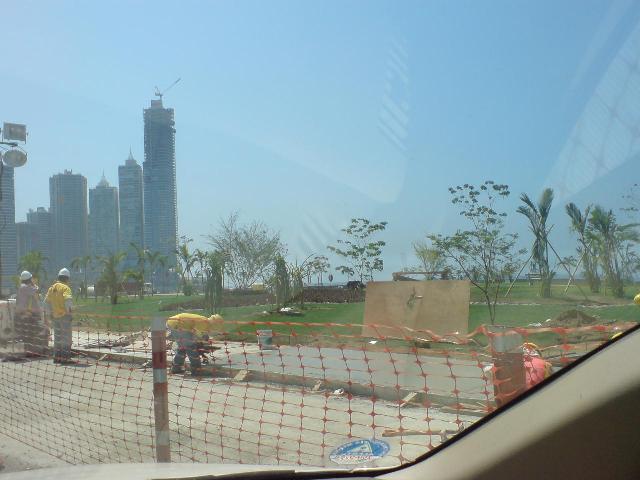 With Presidential elections coming up in May, Panama´s current government seems to have given green light to speed things up. Major projects like the expansion of the Panama Canal and the Cinta Costera seem to be moving faster each day. The Cinta Costera,  even if not fully finished, has already started to wear it´s green clothes: palms, bushes and trees are already planted, ready to inaugurate.
For Casco Viejo, Panama City´s colonial quarter and end tip of the Cinta Costera, it is all good news. On this side of the cinta, the new pipes for the sewer treatment are being placed. Soon, the Cinta Costera´s park will touch Casco Antiguo nearby the Mercado del Marisco (Fish Market) allowing direct access to a fantastic outdoors area.
For Casco Antiguo residentes, this will be an added plus to their lifestyles. Already living in a 300 year old colonial city with the human scale of a small town but embedded 10 minutes away from modern Panama, residents of Casco Viejo have only to walk two minutes to get to a beach. As the Bay cleanning project advances, they´ll be  the first ones to benefit from it´s surf spot at the point of Las Bovedas.  Already a popular surf point for locals, as the current female surf champion Samantha lives in San Felipe and surfs there regularly.
With the Cinta Costera, they will now have a fantastic strech of park for outdoors activities,  everything within ten minutes walking.
As traffic and cost of living raises, Casco Viejo is probably one of the few places in Panama that offers bits of city and town living at the same time, no car necessary, unless you want to explore the jungle or to travel to the country side.  This is making it attractive to a younger profile who is not finding any exciting options at their home countries. The United States alone, announced over an 8% unemployment rate.  Moving oversees to start a new business or just to keep a low profile seems to be getting more popular along young professionals.