Heritage, values, identity.
Quality speaks quietly, but powerfully.  For those who have experienced it, they know Miele is all of the above and more.  From the thoughtful, timeless design that will highlight any kitchen style, to the high tech embedded in every appliance, each piece is made to give you elegant, long lasting, flexible, high performance. It is the type of brand that will be there for you whether you are cooking breakfast for one or a full party dinner, no matter the frequency, nor the crazy dish idea you threw at it.
After asking some of our most passionate foodie friends, like Panamanian Chef José Carles (Donde José and Lo Que Hay), their respect for the brand was immediate: "I love it, Miele is Top", "it has a unique technology".  Phrases like "rock solid" and "notch above" rolled out easily.
We asked our friend Jorge, who cooks every day, what were some of things he enjoyed, for example, about the range. He mentioned the oven self-cleaning feature and the fact that the top racks can be washed in the dishwasher. He went ahead with the small, everyday details that can make your life better or frankly, miserable, if not done well. Take cleaning, for instance. He mentioned how easy it was to deal with the equipment, removing and re installing racks. Above all, the quality of customer service in Panama. "It feels personal and is very quick".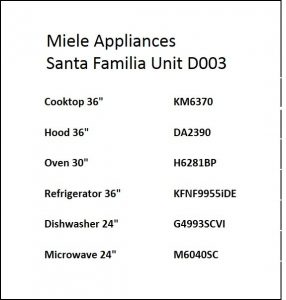 The passion Miele inspires is distinctive of those brands who not only have a deep knowledge of what they are doing, but they are doing it with long lasting love. The type of love that isn´t purely commercial, the only way of building anything that aspires to stand the test of time.  It reminds us of the way we speak about Casco, our values and the way we design our projects. It is the way we feel about our commitment to what we do and how we do it. Researching the brand further, it all started to make sense:
Founded in 1899, Miele is a family company.  Their values are based on trust, and according to their own website, their foundational pillars are "durability, performance, ease of use, energy efficiency, design and service".  "Long-term thinking and planning, continuity of values and goals, good relationships with customers and suppliers".
Kitchens are more than just a room in the house. They are truly the hearth where bonds are made and nurtured. Where creativity sprouts, and playfulness can lead you to discovery and delight. Where traditions are created, and values are passed. Just think of any recipe that was ever passed on, maybe even through generations, in your own family, or where you are from.
At Santa Familia, we strive to create an important piece of legacy that will be there for more than a 100 years. It is only fitting that what makes the hearth burn, the kitchen appliances, are in the capable, loving hands of Miele.
We found that the following video explained quite well the way they work. Enjoy: