Panama, Casco Viejo, Casco Antiguo, Santa Ana
Imagine you are living in Casa Balcones with your family (or Casa Patterson, Casa Korsi, Casa Quijano), and you are all planning what to do to as family entertainment. You have always tried to do things that educate your kids, somehow, and be fun. Your partner suggests: look, there is a theatre play this Friday! and you say, oh yes! Carlito´s photography teacher at the community center said it was worth while. Let´s go!  And the way you all go is by walking. Literally, down the stairs or elevator, all of you (except the dog! ) walking… to La Manzana.  This is the cultural center where Carlitos takes his classes, at Casa Santa Ana, and where at the groundfloor you´ll find a small 150 seat theatre.
Once the play ends, you walk back home, and while Carlitos goes up and gets the dog to go for a walk, you guys buy an icecream at the little shop at the corner.  Now joined by Bella, you all walk to the Santa Ana Plaza, all beautifully light up.
That is the lifestyle that is possible at La Quince with La Manzana.
What is La Quince? is a group of different projects, all of them in the same street and next to the Santa Ana Church.
La Manzana was designed to be the cultural component of La Quince.  It has a 150 seat theatre, and commercial space at its groundfloor.  Sabores Locales, a Panamanian initiative that joins fondas and chefs will be there.  Upstairs,  Fundación Casa Santa Ana      will add to the cultural offer their art and photography school.  At its last floor, studios for sale, where you can live and work, or even rent.
This project, currently under construction, is scheduled to deliver around beginnings of 2021.
Look for units available and prices HERE.
Showing internal patio and theatre: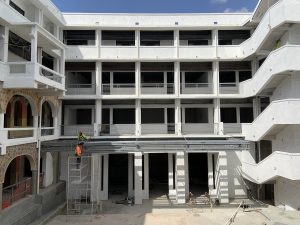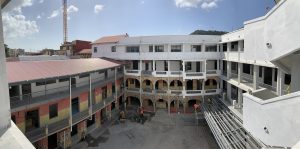 Live/Work Units: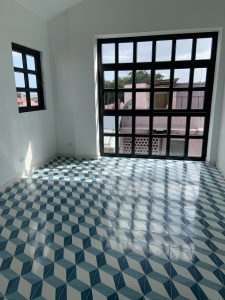 Larger units with balconies: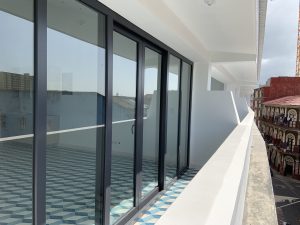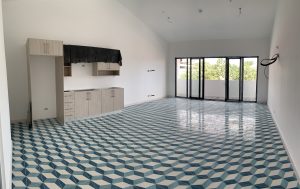 Groundfloor commercial will have Sabores Locales and commercial for rent: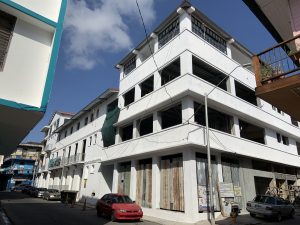 Location within La Quince: big square building bottom left corner!