Panama Casco Viejo, Casco Antiguo
Great stuff to do this month! get in shape or get artistic! On July 20th, Esquina Photo will do a "how to paint a TShirt" for kids with potato prints. Super fun! make sure they come with clothes they can spill paint on… you know how that is! Contact Ingrid to register your kids: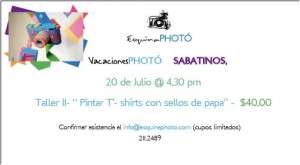 And if you feel like yoga or dancing, here is the new schedule for El Cuarto Rojo at Santa Familia. You can contact them through FACEBOOK.