Panama, Casco Viejo, Casco Antiguo
Awesome weekend, and awesome week! Yesterday, the environmental ngo led the organization of a Day at the Bay, which is a community initiative where everyone "shows up" at Casco Viejo´s beach and … enjoys! yoga, circus, and beach games, the day was impeccable and tons of fun!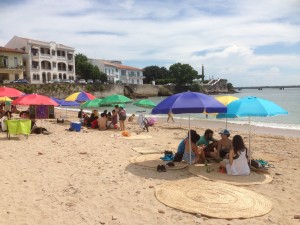 Last night, Las Clementinas had a special evening, where theater mixed with your dinner. Loved the concept of the actors using the whole house as their stage, while people watched and had dinner. Fantastic!
And yes, Casco Viejo´s neighborhood association (AVACA´s) Thanksgiving is coming! if you just moved to Casco, this is a great event to get to meet everyone. Bring food and a bottle of wine!