Panama, Casco Viejo, Casco Antiguo

Tables on the streets and people walking around, ice cream in hand. What does this mean for Casco residents? For Panama?
I´ve lived full time in Casco now for well over a decade. I love walking down Casco´s streets, saying hi to everyone, walking (being dragged?) by my dog Chispa, walking around with friends, family and clients. Walking is such a normal part of my life that I simply can´t picture myself otherwise, even though I was raised in the suburbs, where the car was and is king.  Here, the choreography of my life includes walking to the corner shop for groceries, to the pharmacy for vitamins, the bakery for cappuccino, the ice cream shop to please my Italian gelato craving.  Theater, beach, gym, yoga, massage and hairdresser. My car is 11 years old, has 66,000 miles and last year I filled the tank 3 times total. I use it to go to the pet store, the one thing I don´t have nearby… yet.
And then Covid came, taking the World´s ability to hug and kiss each other. What an un Latin virus. I was reminded of this brain development specialist who has a study on how babies learn languages by taking sound statistics from its parents, which they can only do in their physical presence, not from a device.  It just doesn´t register. So much for zoom meetings, the minute you give us a chance, we want to be out and actually see each other, even if wearing a mask and bathing in gel. Businesses closed and only the bare necessities were kept open. Deliveries became the life line, but here in Casco, walking around kept us healthy, supplied and in touch.
Immediately, Casco´s community got really active. Networks and planning for the future became vital.  For months a coalition of community organizations and government worked an ambitious and comprehensive re opening plan, which is now in effect.
From a resident perspective, I´m impressed with the result. Having been at the head of the neighborhood association for so many years I know firsthand the pains something like this takes. The plan contains a number of solutions that had been in the works for years, involving a lots and lots of people. Covid gave the now or never. Parking, walkability, mobility, public space.  A recycling system successfully in place and noise rules being enforced.  Even though none of it is perfect (and nothing will ever be), it is already making Casco better and planting long term cultural change.
I´m excited on how people are naturally showing up: friends, small families with and without strollers. Sports enthusiasts, teenagers laughing and taking pictures for their birthday. Pet owners meeting at the plazas to see their puppies play. It is like this almost 350 year old city is speaking to everyone in its own timeless language. It is allowing all of us to bond again with each other, recover gently, seamlessly and in beauty.
Is Casco becoming an example of what Panama´s route to economic recovery can look like post covid? I surely hope so. It already is highlighting Panama internationally on how to lead a recovery through grassroots community and cultural organizations. As a resident, I love knowing that every day, what I do contributes to a larger picture, living here makes it all possible.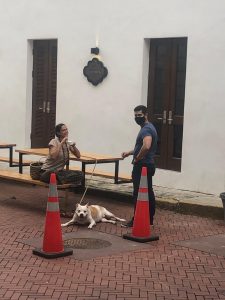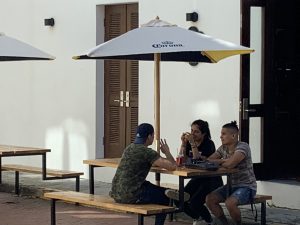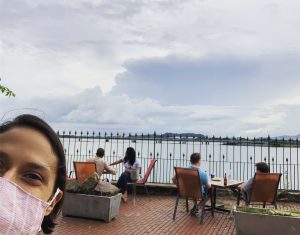 UNESCO THE TRACKER 1 This is the pdf with the UNESCO The Tracker newsletter that mentions Panama