You already lived it. Using your living room as an office for a year and a half if not more. But the reality is, you can´t do it anymore. And it isn´t just the gazillion domestic distractions, including children and home schooling while you are also supposed to work, clean and cook. It is also the fact that your team is suffering from emotional distancing and you know the dynamics simply have not been the same. Add the fact that a number of them already sold their car (or thinking about it), and any next step needs to be in a centric location and probably near public transportation. Everyone needs to save, and each cent counts.
So, what´s the next step? Many business owners and team leaders are facing this same question, as they start growing out of their homes. This is why we´d like to present an unusual option that perhaps you didn´t have in your map. Six things you didn´t know and maybe can help opening your doors, keeping them open… and frankly contribute to your overall lifestyle.
Enter La Manzana in Santa Ana, Casco Viejo. Offices in Casco? Inusual option indeed! But with surprising perks. Keep Reading!
1. Tax incentives for businesses only found in Casco Viejo: whether you are considering to rent or buy, moving your business to La Manzana has the following benefits:
If you buy: The office doesn´t pay property tax for 30 years
If you buy: You can get a mortgage with preferential rate, no matter if a commercial property. It is 3 points below the current rate and it is kept for 25 years.
If you buy: Your business could be eligible to not pay income tax for 10 years, starting in 2021
If you rent: You can deduct your rent from your taxes.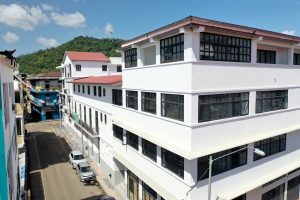 Flex & Efficient Space: from the individual office to the multiuse/multitask space. Most floorplans are rectangular, which allows for efficient distribution and partitions when necessary.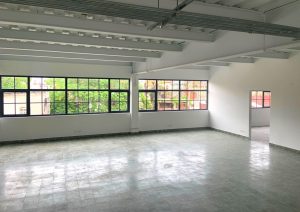 Healthy Open Spaces: from the moment you enter La Manzana you are in a collection of open and roofed spaces. A big plaza in the middle with tables from the gastronomic hub (Sabor Local) at the groundfloor. Open corridors connecting to the offices. Open stairs. There is an elevator if needed. The only closed spaces are the offices themselves, but with big Windows in case you´d like natural ventilation.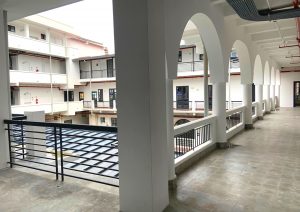 Location: Casco Viejo: meaning you can walk everywhere. Go to cafés and meet client at some of Panama´s best restaurants. All walking distance. In this "after pandemics" reality, this is the healthiest lifestyle. Walk around to connect, to get inspired.
Public Transportation: La Manzana has a Metro Bus stop right in front, and is 20 minutes walking from the Metro at Plaza 5 de Mayo. If you walk Central Avenue you can also take advantage of the many street fruit and vegetable vendors and do your groceries at really good prices!
You can live next to it: La Manzana is one of five buildings from La Quince, a cluster development on 15th street by Grupo Conservatorio. You can currently buy an apartment at Casa Balcones with all the tax incentives we already mentioned. Banks are requiring a family income starting at $1500 (up to 3 applicants) and monthly payments could be starting as low as $500 (depending on your profile). These are brand new apartments, 1 and 2 bedrooms, right next to La Manzana.
VIDEO FURNISHED APARTMENT BALCONES: Beautiful and comfortable! Casa Balcones in La Quince de Santa Ana
In fact, think of this: by the ends of 2022 we´ll be delivering the last residential building in the street. This means that by 2023, this small community will have about 144 new apartments in the same street. What new business opportunities could arise from this new community? What services will they need?
If you see the opportunity, welcome to La Manzana! Contact us for more information: [email protected]   Whatsapp 6676-6785 Instagram @arcoproperties_casco_viejo