Panama, Casco Viejo, Casco Antiguo
Two concerts on December 21st:
National Theater: chorus Santa Teresa de Jesús and the José Daniel Crespo school band (from Chitré). To raise funds for the maintenance of the San Felipe Neri oratorium.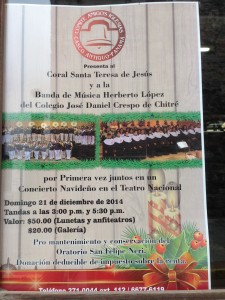 Ministry of Foreign Affairs at Plaza Bolivar: Children`s orchestra. If you haven´t been to this beautiful building, this is your opportunity!