Casco Viejo, Panama, San Felipe
Interview to sisters Ester Dahan and Ayelet Vahnish Gal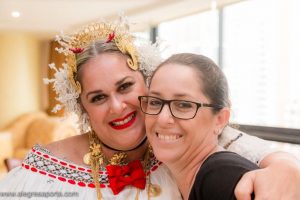 Something we´ve loved about Café Ruigar is that almost always you can bump into one of you there, sometimes both! How did the idea of opening something in Casco came about? 
I always wanted to have a café in Casco. I´ve been dreaming about it for years, thought of Darna or something similar. Now, because of covid, we had to close some of the larger locals and had the opportunity to meet the managers of this corner. They had the perfect space for a small café that takes you back in time. We don´t want anything "modern", "eclectic". We want a simple menu that is fresh and where clients can have a relaxing time.  That they can have their local coffee, pastries and breads, made by us.  For our guests to relax… these moments are to enjoy these little things.  
Is this the first time you do something together? 
My sister and I opened Darna 17 years ago, we started in Calle Uruguay, then Avenida Balboa and now we have Darna´s Bread Co in Paitilla and Punta Pacífica. We do everything together. I am in charge of the gastronomic side of the business and she does the administration.  
When did you realize you had this love for pastry? 
I wouldn´t say that my passion is desserts but bakery in general. I love making bread, and 22 years ago I went to Paris to study how to make it.  Then I went back to Israel and was lucky to work with really good bakers and wonderful chefs. People who shared their techniques and recipies. In 2003 I came back to Panama, and when we opened Darna, I learned to sell sourdough to our clients. In 2007 we managed to open the bakery and from then on, everything is history…    
Tell us about Café Ruigar, what is the concept? 
Café Ruigar is like a time machine. I´d like all the ladies who were born in the neighborhood to come and get good coffee and something to go with it. I´d like tourists to come see how beautiful Casco is and how simple. Life brings surprises in small things. We´ll soon have books for clients who would like to take them or read them here.  
Recommend us something!  
 

I love Labne, which is made of cream cheese and yogurt. You can eat it with good bread and olive oil and zaatar. I also love the café´s sándwiches, of course the bread makes all the difference. The bread we use is ours.  

(Post Note: tried the Labne and it is spectacular!!!)

From the short time you´ve been here, what have you enjoyed from Casco? 
The beauty of the streets. It is incredible how we are missing small buildings. The balconies, the people. Sometimes I see these older ladies on them, I imagine they were born there and I fell in love. I enjoy walking the Casco. When I was a little girl we always came here to show people visiting from abroad. We would go to the plazas to take photos and to Avenida Central, which was the shopping mall of the 80´s.