Panama Casco Viejo
As the historic city moves on with its restoration, opportunities to buy nice two and three bedroom apartments in the $300,000 range become rare.  This is one of the many reasons why we like Mano de Tigre, Conservatorio`s most recently launched project in Plaza Herrera. You can get two bedrooms starting at $312,000 and even some of them are convertible into three. But those will go in another posting, today we`ll check out the two bedrooms only.
First, the main facade with a summary of how many bedrooms and prices:
Now, let`s see how the first level works:  each apartment at Level 00 has actually two levels: 00 and 100.  So you enter to your apartment through level 100 where you will find the kitchen, living room, dining room and the master bedroom and bathroom.  Then, you go down the stairs, and you find the laundry and the second bedroom & bathroom.  This area also has a small patio that brings light into the level.
Here is an example: Apartment 1 – $312,000 – Area: 127.57 mt2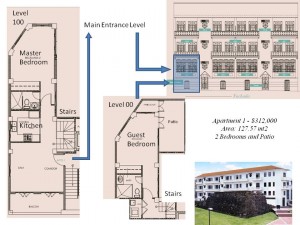 All the units on this level work the same way.  Units 1 and 3 have two bedrooms, Units 2 and 4 are two bedrooms convertible into three.
The other interesting two bedroom is Unit No. 7 at $345,000 – Area 104.50 mt2
This one is located on Level 200 and has views to the colonial wall and gardens. The balcony is spacious enough to have a nice breakfast table out, and the floorplan as you can see is all in one level.
Another advantage of Mano de Tigre is that all units will have the ability to rent a parking space at the property next door, which is very convenient and highly desirable in a historic city!
If you are interested in learning more about Mano de Tigre, don´t hesitate to contact us for a free brochure:  clara   or    patrizia    @arcoproperties.com