On December 19th, 2016/ 7:00pm/American Trade Hall
Ron Haviv is an American photojournalist who at his 23 years old, captured the iconic image of Guillermo "Billy" Ford attacked by a member of the Battalions of Dignity in Santa Ana in 1989. Haviv has covered more than 25 conflicts in 100 countries during last three decades.
Walsh, is a visual media and historical memory  professor from New York University, she met the photojournalist during an interview. She realice the international importance of that portrait 27 years ago and she asked herself: What happened to that photo and when the world stopped paying attention to this?
The collaborative project of Haviv and Walsh focuses on this iconic image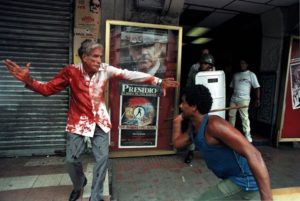 Free Admitance