Panama, Casco Viejo, Casco Antiguo
@arcoproperties_casco_viejo
What does it take to successfully restore a building in Casco Viejo? When a client comes into Arco asking for a building to restore, we always take a pause. We know firsthand this is not for everyone, it takes years to get a project off the ground.  But at the same time, it is one of the most satisfactory things you can do in Casco: to build history with your own hands.  To leave a long lasting footprint in a World Heritage Site at the center of the Americas.
To learn more about what lessons or skills are necessary to be successful in your endeavor, we´ve asked developer Chris Lenz from Hotel La Compañía de Jesús to give us his thoughts.  La Compañía is one of Casco´s most complex historic hotels currently under construction, with three buildings (each one from a different historic period) joined together by a colonial patio belonging to one of the most iconic Casco Viejo monuments: the ruins of the Jesuits Church.  A wonderful challenge!  
We´d like to thank Chris Lenz, developer of Hotel La Compañia,  for taking the time for this interview and his valuable insights! 
Arco: What things you think are important to be able to build successfully in Casco? 
Chris:  "In terms of what is the toughest for building in Casco….well where to start!?!?!" 
Lesson 1: Recognize the Process and Build a Time Cushion 
 "Think to me the key in Casco is recognizing the process, from anteproyecto to building permits….The system does work, but developers should recognize the time that it takes to design, submit and approve….this is years, not months." (Note from Arco, at this time an anteproyecto could take well over a year). 
Lesson 2:  Be Mindful About Logistics:   
It is tough.  (Arco´s note: he did say "a nightmare" =). "Being an old city the roads are small and there are many restrictions on mobility, space, equipment size and so on. A lot of work has to be done in labor intensive ways. Think hands, shovels and wheelbarrows, not back hoes and heavy machinery."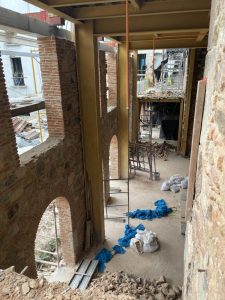 Lesson 3: Planning is Crucial 
"The most crucial part of this to any developer is good planning. Building is always tough but doing it in a confined area with many restrictions adds much more complexity to the equation. Poor planning on logistics will create much frustration with both the builders and the authorities, this will result in much delay and numerous extra costs in terms of time money. 
So plan well, double check it and prepare for a marathon…it is a long tough road, but nothing great ever came easy and this is a belief that all developers in Casco share. The creation or better said re-creation of the heart and soul of a country is a unique and wonderful opportunity but it takes patience and undivided focus." 
 #panamacascoviejo  #cascoviejopanama #cascoviejorealestate #cascoviejohistoricbuildings #cascoviejoinvestment #historicbuildings #cascoviejohotels #hotellacompañia