Panama, Casco Viejo, Casco Antiguo
It is kind of a cliché, isn´t it? That the only thing that never changes is the fact that everything is constantly changing. In Spanish, we have a fun saying: "Camarón que se duerme, se lo lleva la corriente".  The literal translation being: a shrimp that falls asleep is swept by the current.  Take that for a tropical piece of wisdom!
2019 the Arco Shrimp was moving!  It was a big current that saw us transform and grow. For the first time ever, we reached a 100 transactions. This was a response to a deeper transformation, one that will start to really be made visible in 2020. Updating and upgrading, upwards and onwards. From marketing and systems to our office (yes, we´ve been "glamping" at Casa Mendoza in the meantime) to our team.  Casco is expanding, and so are we. And while some things are still in the oven, here is a quick glance at what´s cooking for 2020:
In a few days, Santa Familia, our crown jewel, will begin construction.  This is trully poised to be the iconic condominium in Panama´s historic city. It literally took us ten years to put the whole thing together, and just as we did with American Trade, infuse it with the ultimate Casco lifestyle, being not only ocean front but actually beach front. Santa Familia is a project packed with love, amazing stories and meaning. Take our word for it, no one will be able to replicate what we are doing here! We are specially proud of the people who have already made it their future home and investment. We couldn´t ask for a better new family. So looking forward to celebrate our "primera piedra" !  By the way, this rainbow is from December 24th… awesome!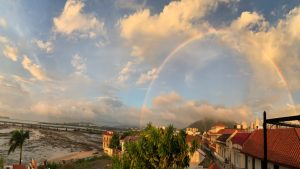 We are also excited about La Quince in Santa Ana. Last year the first families moved into Casa Patterson, and this year, we´ll be delivering Casa Balcones and La Manzana. Between the three, over 60 brand new residential units, a 250 seat theatre, space for offices and cultural activities through different ngo´s and partners. It has been an incredible experience to be able to serve so many new families and first time owners to make their dream come true. This year, 2020, we´ll see the next phase of La Quince get started with Casa Quijano and Casa Korsi. Those units are in schedule to be delivered more towards the ends of 2021 and 2022. Still in pre sales! so if you are interested, let us know right now! (place commercial here…=)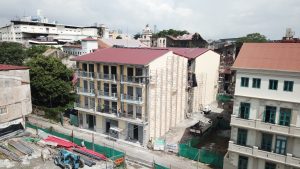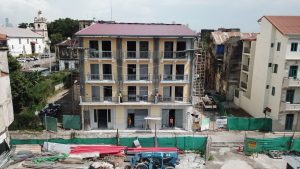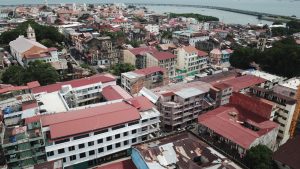 With a team expanding and so much in front of us, Arco also was ready for an office make over! hopefully we´ll be able to invite you all to the "opening" in March…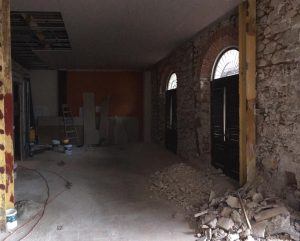 it´s been like doing our own archeology, calicanto stone walls coming out!!! but the most incredible archeology was packing our archives, we probably will need someone to help us organize all the history, the photos, the mementos.
More coming, of course! Do keep up with the latest news and properties being launched with our Instagram account.