Patrizia Pinzon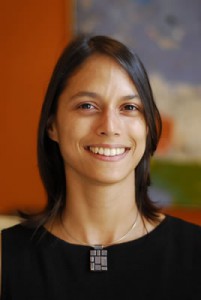 President and Co-Founder. Patrizia was born in Panama and grew up dancing in Casco Antiguo's National Theatre with the Ballet Nacional de Panama. She holds a Masters in Business Administration from Universidad Latina Maria Antigua in Panama City. Prior to founding Arco Properties, Patrizia coordinated the Smithsonian Tropical Research Institute's public outreach program at Barro Colorado Island. Patrizia lives in Casco Viejo and speaks Spanish, English and Italian.
"Patrizia Pinzon at Arco has been fabulous to work with. My wife and I came to Panama to invest in a property in Casco Viejo. We contacted Arco and Patrizia handled our first meeting. She showed us several properties in the area that were complete, under construction and planned. She was very knowledgeable and extremely helpful. After two visits and e-mail communications we fell in love with the Benedetti Hermanos project and bought a beautiful unit with a large balcony overlooking the Pacific and the old town. I would give them an A+ on their help and expertise" — Emmett O'Ryan
Clara Keyes Hardin
Co-Founder. Clara was born in Miami, Florida, where she worked in real estate for over 30 years, first with her family's Keyes Company, and later with Prudential Florida (now Coldwell Banker).
"It can be very difficult finding a good realtor in Panama and there are many unseen pitfalls you can run into, but you will not find a better person to work with than Clara. In helping us find our apartment she went far beyond what you would expect from a realtor, helping us much more than any realtor we have ever worked with in the past thirty years of buying and selling property. Not only did she make absolutely sure that we were aware of all the potential problem with the property we were purchasing (putting her own commission at risk in the process by the way), but she helped us with all those difficult problems you have when purchasing property in a foreign country. In fact not only was she a wonderful realtor, but by the time we had gone through the lengthy process she ended up being a wonderful friend as well to welcome us in our new Panama home. We simply cannot recommend her highly enough." — Barry & Jacqui Seddon, Pacific Grove, CA
The Conservatory Group of Companies
Arco Properties is part of a group of Casco companies owned by Conservatorio SA.  Founded in 2004, Conservatorio has played a leading role in Casco's revitalization by restoring apartments, hotels, commercial buildings and creating  social housing.  To learn more about Conservatorio and its companies, visit www.conservatoriosa.com.