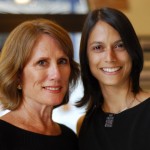 Arco Properties was founded on the philosophy that successful urban revitalization stories are at their essence about passion, thoughtfulness and entreprenuership. We fully believe that realizing its potential to be one of world's great historic districts depends on attractting entreprenuers and residents who share our passion. We live, work and invest in Casco Antiguo and we do business knowing that every client will be a neighbor. Run by a Panamanian who spent much of her youth in Casco's National Theatre and an American with over 30 years of real estate experience in Miami and Santa Fe, Arco Properties focuses exclusively on Casco and has handled more transactions in Casco than any other brokerage.
What Our Clients Say About Us
"Since completing the sale of our 1873 home, we have been impressed with not only Arco Properties expertise in the real estate market, but also to their dedication to the social, cultural and historic preservation of Casco Viejo. We recommend Arco Properties to anyone looking to buy or sell real estate in the historic city of Casco Antiguo."
Rich and Alyce Sherman
Kansas City, Missouri
CasaSucreBedandBreakfast.com
"Finding the right property in Casco Viejo can be quite daunting, especially when you are new in town, but with Arco Properties my husband Francesco and I felt right at home. First Arco sourced us a great rental and then helped us find the perfect flat to buy. It's clear that they really know and understand real estate in Casco Viejo and all members of the team gave us an efficient, comprehensive and friendly service from day one to completion. I couldn't recommend them highly enough". Suzanne and Francesco Ambrogetti
"In early 2005, on a layover en route to the Boca del Toro islands, we unexpectedly "discovered" Casco Antiguo. Having a longstanding passion for architectural preservation, and envisioning the possibility of personally being part of the renewal of a vibrant historic community, we were immediately captivated. The memory remained; upon our return to the United States, we contacted Arco Properties by e-mail. Arco Properties' staff's passion, thoughtfulness, and commitment to community were immediately evident, even from afar. Clara Hardin helped us find our apartment—our retirement home—and, since we moved to Panama City (and finally met face-to-face), has become a trusted advisor and a ready friend and neighbor.
Mary Roush & Gerald "Goldie" Watkins
Former residents of Wilmington, DE  U.S.A. now, residents in Casco Antiguo
"On our first trip to Panama, we met Clara Hardin of Arco Properties.  She was very knowlegeable and helpful, and able to show us several properties.  However, her  true professionalism, and that of the Arco company, came through when she offered her expertise in arranging for us, as foreigners, to get a mortgage at a Panamanian bank at a very low rate.  I would certainly recommend Arco Properties to anyone looking for property in Casco Viejo." Betty and Craig Weinceks