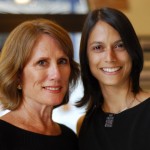 Nuestra compañía fue fundada con la filosofía de que toda historia de revitalización exitosa es en el fondo una historia sobre pasión y emprendeurismo.  Creemos firmemente que para realizar el potencial de este barrio para que se convierta en uno de los grandes distritos del mundo es necesario atraer emprendedores y residentes que compartan esta pasión. Nosotros vivimos, trabajamos e invertimos en el Casco Antiguo y hacemos negocios sabiendo que cada cliente será un vecino.  Conformado por una panameña quien pasó gran parte de su juventud en el Teatro Nacional del Casco Antiguo y una americana con más del 30 años de experiencia en bienes raíces en Miami y Santa Fé, Arco Properties se enfoca exclusivamente en el Casco Viejo y ha manejado más transacciones en el Casco que cualquier otra agencia.
Lo que nuestros clientes dicen de nosotros
"Since completing the sale of our 1873 home, we have been impressed with not only Arco Properties expertise in the real estate market, but also to their dedication to the social, cultural and historic preservation of Casco Viejo. We recommend Arco Properties to anyone looking to buy or sell real estate in the historic city of Casco Antiguo."
Rich and Alyce Sherman
Kansas City, Missouri
CasaSucreBedandBreakfast.com
"Finding the right property in Casco Viejo can be quite daunting, especially when you are new in town, but with Arco Properties my husband Francesco and I felt right at home. First Arco sourced us a great rental and then helped us find the perfect flat to buy. It's clear that they really know and understand real estate in Casco Viejo and all members of the team gave us an efficient, comprehensive and friendly service from day one to completion. I couldn't recommend them highly enough". Suzanne and Francesco Ambrogetti
"In early 2005, on a layover en route to the Boca del Toro islands, we unexpectedly "discovered" Casco Antiguo. Having a longstanding passion for architectural preservation, and envisioning the possibility of personally being part of the renewal of a vibrant historic community, we were immediately captivated. The memory remained; upon our return to the United States, we contacted Arco Properties by e-mail. Arco Properties' staff's passion, thoughtfulness, and commitment to community were immediately evident, even from afar. Clara Hardin helped us find our apartment—our retirement home—and, since we moved to Panama City (and finally met face-to-face), has become a trusted advisor and a ready friend and neighbor.
Mary Roush & Gerald "Goldie" Watkins
Former residents of Wilmington, DE  U.S.A. now, residents in Casco Antiguo
"On our first trip to Panama, we met Clara Hardin of Arco Properties.  She was very knowlegeable and helpful, and able to show us several properties.  However, her  true professionalism, and that of the Arco company, came through when she offered her expertise in arranging for us, as foreigners, to get a mortgage at a Panamanian bank at a very low rate.  I would certainly recommend Arco Properties to anyone looking for property in Casco Viejo." Betty and Craig Weinceks