Panama, Casco Viejo, Casco Antiguo
Someone approached me the other day about the Metro Bus, if it reached Casco and how to use it. I was confused myself on how to go about it, since they have changed routes and where to get the card, so what I did was to ride it last Sunday and here are my notes on it:
CARD: I found myself asking everywhere for one, and no one sold it.  The nearest posts I could verify are: at Plaza 5 de Mayo (the sidewalk next to the old train station) and the stop they call "Mercado de Mariscos" which is actually not at the Fish Market (close, though!) but next to Cochez and the San Felipe Neri Market (you will see a big stop there with an orange fence. The card costs about $2.50 or so, and remember to ask the sales person to charge it with an amount. Each ride is about $0.25, my recommendation is that you plug in $5 and keep the card just in case.
ROUTES: Tricky.  The two closest ones to Casco Viejo are:
Route Ancon – Avenida B:  You can take it at the Santa Ana plaza. This one makes a small loop through Ancon, Santa Ana, Fish Market and back. I didn´t ride the full extent of this, and couldn´t find the map in their website. But I did call the MiBus company and they confirmed.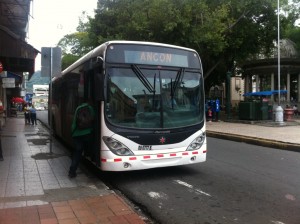 Route Cinta Costera: The closest "stop" where to take it is at the Cinta Costera, just passing the Fish Market, by the exercise area where they have all the machines.  There are several routes passing through here, most of them go all the way to Paitilla (in case you want to go to Multicentro, Bal Harbour, or the pharmacies and stores there).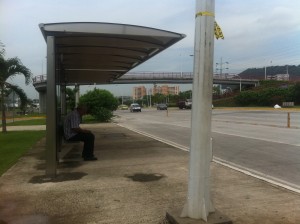 Once you take, let`s say, the Cinta Costera out of Casco and want to come back, then most likely you will have to take 2 buses: one to take you to the "Fish Market" stop and one to take you to Santa Ana (a.i. the Ancon- Avenida B route).  Make sure to mark the card "trasbordo" as you are leaving the bus, so that it has a better fee on the next one. If you do have a question, I found the best way is just to ask the drivers. So far, they`ve been very amiable. Not sure they speak English, but they will try to help!
Now, BIG tip, as it is not very obvious: the stop to get the Ancon- Avenida B is actually a few steps away from the Fish Market big stop. It is a small stop (see the small orange sign in photo) next to Republic Parking and the Pantera Rosa. Buses going through this stop are: Ancon- Avenida B and the Chorrillo route. If by mistake you take the Chorrillo route, it is not the end of the world. However, it would take you to Calle 17, which is 3 blocks away from Santa Ana and you need to know where to get down which isn´t easy to recognize. Make sure to approach the driver so he lets you know when to go down. Better keep to Ancon- Avenida B.  And if you feel like walking, you`ll probably get there faster, as this stop is basically at the commercial part of Avenida Central (Central Avenue) and walking is a treat.