What to Do? Where to Go? Where to Stay? in Casco Viejo
Restaurants, Bars and Galleries in Casco Viejo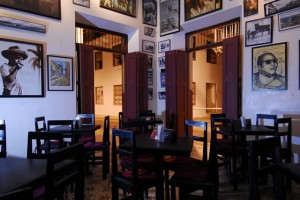 Las Clementinas Café: you`ll love having brunch at Clementina`s lush gardens. Panamanian cuisine with a twist!  Or if you go for dinner, try the coconut soup or the sea bass. Ph. 228-7613/ 7617
American Trade Restaurant: restaurant from the American Trade Hotel in Plaza Herrera, by internationally recognized Panamanian chef Clara Icaza. Webpage here. For reservations: diningroom@americantradehotel.com
Donde José: gourmet experience at the corner of Calle 11 and Central. Limited seating, chef`s table, 8 course meal. Native ingredients, Panamanian cuisine with a twist by passionate chef José Carles. For Reservations reservas@dondejose.com.
Ego & Narciso: One beside the other at Plaza Bolivar. Wonderful Peruvian tapas at Ego and very good italian food at Narciso. You can order from both, no problem! Ph. 262-2045
Bajareque Coffee: High quality coffee from Chiriqui. Owners have been in coffee all their lives, it is their burning passion.  Bajareque will offer an experience, including classes and coffee tastings. Located at Calle 1era, next to Platea…6614-80-57
Mojitos: our favorite beer bar in Casco Viejo! at Plaza Herrera, you can have a good hamburger with beer or any other drink … that is not a Mojito. Don´t ask! The garden surrounded by old stone walls makes for a great hang out…..6855-40-80
Divino: Italian wine bar! right in front of Arco Properties at the corner of 4th St. and A Avenue. You`ll love to hang out there!…202-68-67/98-46
The Fish Market (Truck): truck foodie movement reaches Casco! great fish tacos, and fish curry, they are located at Central Avenue and 10th street, next to the American Trade Hall and in front of the Lottery building. You can contact a Maurice ph 6151-1697 or cohen@usa.com
Puerta de Tierra: steak specialties at the corner of 9th Street and Central Avenue. Excellent everything, but specially meats and specialty cocktails. Next to the Iglesia de La Merced….377-77-47
El Sitio del Casco: the neighborhood was in desperate need of a sports bar! a classic place where to watch the games and have nachos con queso. A Avenue, between 4th and 5th, next to La Vecindad and Bohemios. In front of Di Vino.
CasaBlanca: casual dining at Plaza Bolivar. 212-0040
Vieja Habana: relaxed, Cuban ambiance at B Avenue , corner with 5th, right in front of the Presidential police. A great place to start your night with a mojito….212-38-73
Habana Panama: the craziest salsa dance hall you can imagine, located at the very entrance of San Felipe (known as Terraplen). Right before getting up the ramp, you´ll see it at your left. Live salsa bands!….212-01-51
Diablo Rosso: alternative art gallery and café, a space for young artists to show their work and market. Also has great soups (spicy curry!) and light food…..228-48-33
Diablicos: next to Cevichería, at Central Avenue, between 2nd and 3rd. It specializes in Panamanian food, mainly from the Pacific side. On Fridays they bring the Caribbean spice up!…228-94-95
Platea & Scena: Scena is a nice formal restaurant above Platea which is our favorite jazz bar. They also have live music most nights, ranging from salsa to rock. Located on Calle 1era, in front of the old Club Union. 228-4011
Caffe Per Due: Manuela run our favorite neighborhood spot for pizza. She is from Mantova, where I have to say I got the best food ever in Italy. They are located at A Avenue and First Street, at PH Paseo Las Bovedas. 6512-9311 / 6496-4878/ caffeperdue@gmail.com
La Forchetta: Italian cuisine, outdoors and indoors seating at Plaza Catedral. Great pizzas and risottos. Try the Bocca di Fuoco if you like spicy!…212-00-51
Grandclement: the best ice creams in Panama. French owned & run, wonderful new flavors! Location: Central Avenue and 4th street. 228-0737
Manolo Caracol: Spanish tapas and salads. Location: Avenida Central and 3rd street. 228-0109
Mostaza: Italian food with a cozy feeling. You will feel at home, either sitting outside or inside. Location: 3rd street and Avenida A. 228-3341
Super Gourmet: great gourmet sandwiches and food to grab & run. Location: Avenida A and 6th street….212-34-87
La Casona: Outdoors bar, facing the beach. Art Shows, movie nights, etc. Location: 5th Street and A Avenue.
La Vecindad: beautiful, rustic bar at A Avenue, between 4th and 5th. Weekend bar hoping has to include La Vecindad. Ask for Nico or Idalibeth!…6005-14-36
Relic (at Luna's Castle): neat underground bar, literally built under the original stone city wall. Located at 9th Street, inside the backpackers hostel Luna´s Castle. This is a nice place you can't miss…..262-15-40
Cedros: Rock at Central Avenue and 4th street, next to Hotel Central, a few steps away from Plaza Catedral…..6251-21-20
Café René: Tapas restaurant, informal. Location: Plaza Catedral, at the side of the church. 262-3487
Las Bóvedas Restaurant: because it's set up at two of the vaults of Plaza Francia, its interesting to see the interior. Sometimes they have live music. Location: Plaza Francia. 228-8058
VIP Juices: A Avenue, between 4th and 5th street. Nice milkshakes for a $1.
Tequilas Bar and Restaurant: at the corner of 3rd Street with Central Avenue, next to Manolo Caracol. A little bit of everything, young owners, friendly atmosphere, outside seating….228-67-97
Dolce Idea: gelato at Plaza Bolivar.
Segafreddo: the classic Italian brand at Plaza Bolivar. Good desserts, great location!
Tinto de Verano: wine bar near the Presidential Palace, at Casa Morales.  Charming corner, perfect to enjoy a summer afternoon.  Ph. 212-3439
L`Osteria: Italian restaurant located at hotel Casa Del Horno. Enjoy the old colonial feeling surrounded by calicanto walls and having a great meal.   If you rather have something light: they have the Casa del Horno Café right next door! http://casadelhorno.net/eng/concept.html…..264-98-46
Grapes: Restaurant and bar, serves international cuisine. It is located at 8th street, steps away from Tinto de Verano. Ph. 212-1882  Email: info@grapes.com.pa
Barlovento:Roofterrace spot at Calle 10ma and Central Avenue. Great place for a cocktail under the starts!…..6613-43-45
Casa Sucre Coffee Shop:  Excellent desserts and tea! try their chocolate cake, it is to die for. Ph. 6982-2504 www.casasucreboutiquehotel.com
Finca del Mar: Fish and seafood French style at Calle 2nda, behind the French Embassy. Open terrace with views. Open from Monday to Sunday, 8 am. until dinner. Phone: 6744-6223
Dodó Café: Las Bóvedas. Charming café at the corner of Calle 1era and Plaza Francia. Vegetarian options, great coffee.
La Buat: located at the end of 12th street by A Avenue, behind the Escuela de Estados Unidos. Live music venue by the sea. Facebook page HERE.
Where to Stay? Hotels and hostels in Casco Viejo
Canal House Panama: A beautifully restored colonial mansion at the heart of San Felipe. Ideal to rent the entire house, it has 3 suites, most of them with inner offices, all of them with internet. Fully staffed 24/7. Check it out at: www.canalhousepanama.com Phone: 228-2907/ 8683.
Las Clementinas, Chambers and Cafe: One of the most romantic places to stay in Casco! Don`t miss the gardens. All suites are full one bedrooms with equiped kitchen. Contact info: Panama  +507-228-7613 | +507-228-7617and Toll-free from US & Canada: 1-888-593-5023
Los Cuatro Tulipanes: short term rental apartments, nicely furnished. Nice service, good for family travelling together. http://www.loscuatrotulipanes.com/….6070-45-49
Casa del Horno: beautifully restored, with original calicanto stone everywhere and a great little café at the groundfloor (restaurant opening soon).  Ph. 212-0052 info@casadelhorno.net
Tántalo Hotel: hotel boutique and restaurant with a sophisticated young ambiance. Every room is decorated by a Panamanian artist. Located at B Avenue, in front of Escuela de Mexico.  http://www.tantalohotel.com/casco-viejo.php…262-40-30
Magnolia Inn: located behind the Cathedral, right in the middle of everything, this hotel offers you a great combo, whether you are travelling with family or only need an individual room. Owners Cherie and Reggie will make you feel like home!. http://magnoliapanama.com/  Ph. Local telephone: +(507)202-0872 and (507)6073-2773 US telephone number: 813-252-2744
Panamericana Hostel: chic, young, fun, this new hostel has taken Casco Viejo by storm. Rooms decorated by young Panamanian artists. Some have plaza views. Roof terrace with water views and unparalleled chill-out factor. Facebook at: Panamericana Hostel. Ph. 202-0851
Hotel Casco Antiguo: budget hotel at one of Casco`s hidden gems. Don´t miss the moroccan style lobby and the still running original elevator!..
Hospedaje Casco Viejo: Very well located, low budget, perfect for backpackers. http://www.hospedajecascoviejo.com/hotel.html or cascoviejo@centrodereservas.net or call (507) 269-6166/211-20-27
Luna´s Castle: Also for backpackers. Beautiful and original hostel, water views and a great "underground" bar called Relic at the old colonial wall. Give them a call at: 262-1540. http://wakansadhana.blogspot.com/2007/07/blog-post.htm.
Casa Nuratti: New Hotel for the young soul in Casco , loved the  Restaurant an their "virgin" drinks next to Tantalo..  262-2315
Where to Shop? Shopping and Retail in Casco Viejo
Papiro y Yo: our favorite store for souvenirs and gifts made out of recycled materials. Beautifully crafted everything. No kidding!….391-38-00
Diablo Rosso:  young art gallery featuring Panamanian artists and creative souvenirs.  A Avenue and 7th Street…..228-48-43
Reprosa: Panamanian jewelry inspired in traditional pre colombian huacas. Art Deco building, Avenida A, between Calle 5ta y 4ta….391-38-00
Esquina Photó: 1st Street and A Avenue,  art and photo gallery. Beautiful and affordable photos from all around the world. Open from 10 a.m. to 7 p.m. Mondays to Fridays. Weekends from 10 a.m. to 5 p.m. Ph. (507) 2112489
Museo de la Esmeralda: jewelry showcasing emeralds. Located at Plaza Catedral…262-16-64
Galería de Arte Indígena: artcraft shop, located at Calle 2nda. Wide range of Panama Hats.
Souvenirs La Ronda: artcraft at Calle 2nda….211-10-01
Souvenirs El Farol: artcraft at Calle 2nda and Avenida A…228-85-97
Karavan: Art from the Caribbean part of Panama (Portobelo). Located at 3rd Street, in front of the Arco Chato…228-71-77
Pana Art: artcraft and Italian icecreams. Good desserts! Avenida A y Calle 6ta…212-29-55
Artesanías Daisy: Avenida A, Entre Calle 4ta y 5ta.
Happy Landing Travel Agency: shop for tours! Located at 8th street, here you can buy your air tickets, book tours within Panama where you can explore the best of the country.  Ph. 212-0613/ info@happylanding.com.pa
Servicios de Internet:
OSHITEC: Located between 4th and 5th Street at A Avenue, this internet café offers other services like international calls and repairs computers. Knowledgeable! Phone. 64805013
CascoStation: this is a "coworking" place for creative minds and entrepreneurs. Located at 5th Street and A Avenue. If you have a small business, this is a great choice!  web CascoStation.  Ph. 838-6111.
Wellness, Fitness:
TLG Gym: located at 4th Street and A Avenue, at Santa Familia. They specialize in crossfit, Jiu Jitsu and boxing. Contact: alleycatfitnessfoundation@gmail.com
El Cuarto Rojo por La Tribu Performance: serious circus training! equally located at Santa Familia, this professional group has aerial dance classes as well as yoga and others.
Theaters and Art Galleries in Casco Viejo
The National Theatre: Near Plaza Bolivar, next to the parking lot. They never publish what they have, basically you have to ask. However, they always have something interesting going on, from ballet to opera! To check out what's going on: 262-3525.  The theatre inside is beautiful, if you are just passing by, don´t forget to visit. Normally is $2 or so to get in and get a small tour. Check out the Arco Properties Events Calendar, whenever we hear about something we post it there!
Teatro Anita Villalaz: Small theatre at Plaza Francia. It used to be a court room, and when you walk in you can get the sense. Today is the favorite spot for more intimate events.  To find out what is going on, basically you have to go there and ask! 211-4020
Diablo Rosso: very good food but also has an interesting art gallery. Located at A Avenue and 7th Street, their shows change almost every week. They host movie nights (ask for CenaCine) and other events. 228-4833
Los Del Patio: Located at 3rd Street and Central Avenue, next to the Ministry of Justice. Diagonal to Manolo Caracol.  Los Del Patio is a combination of an Art Gallery, Theatre, Café and Art School all wrapped around a central courtyard. From painting workshop for local children to yoga and theatre classes. The building is a small "art" compound that includes a small theatre for experimental shows.
Karavan: Art from the Caribbean part of Panama (Portobelo). Located at 3rd Street, in front of the Arco Chato. 228-7177